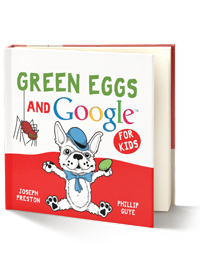 Green Eggs And Google For Kids
Green Eggs And Google For Kids is a fun story about the Dog in the Derby and his dream to start his own business and become a success.
Follow the Dog in the Derby as he tries all sorts of advertising to get his business off the ground. Unfortunately, these ads do not help him sell his green eggs.
Eventually, he meets a spider who introduces the Dog in the Derby to the powerful Google search engine.  Here's an excerpt from the book:
I'm a spider called Goo 
With eight furry legs. 
Why are you crying? 
And what's with these green eggs? 
These old dogs like normal eggs 
And that won't ever change. 
It makes no sense to try and sell them something quite so strange. 
There's a network called Google AdWords 
Used throughout the land 
I'll make your eggs famous 
For a little cash in hand. 
After the Dog in the Derby invests his last dollars into advertising on Google, he finds buyers and makes sales all over the world.
With the help of Google and his new friend Goo the spider, the Dog in the Derby builds a successful business and achieves his dreams.
Created by marketing strategists and reputation advisors Joseph Preston and Phillip Guye, this book is ideal for those who want their children to learn how to read, count and persevere to succeed. 
Enjoy the story, the rhymes, the illustrations and the counting activities! Answers to the activities are available at GreenEggsAndGoogleForKids.com.
Get new free e-books by email:
We never spam. Sign-up to get new digital marketing e-books monthly in your inbox.